"I have been a composer, performer, producer, arranger and synthesist through the years and have combined these skills to produce the music you will hear in this website. All of the music here was composed, performed, and mixed by me using the equipment in my media production studio. I really enjoy the fact that computers and software have advanced so dramatically that I can do all of the different tasks required to create these visual music compositions, especially when you consider the complexity of combining the sonic and visual components in a meaningful way."
"Please have a listen and enjoy some of the compositions here!"
Steve's Classics
Hurricane Creek Band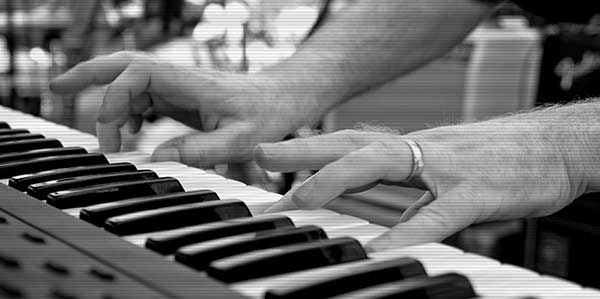 Commercial Music
"This page features a sampling of cues done for film and TV. I was asked to write in a wide variety of styles and moods and this certainly was a challenge. I have a huge respect for anyone who can get the job done. Although I dabbled in this side of the business, I found it to be incredibly demanding to write under pressure, sometimes with excruciating deadlines. A few of these examples were used in radio commercial production. Also, the music of "Back To Back" is here. (This was a duo/band I had in the 80's in the Boston area. These songs all used early analog and FM synths). Have a listen and see why they still talk about us around Boston."
Synthesizer Compositions
"I started performing with synthesizers when I purchased my first synth - an Arp Odyssey analog keyboard. I would have to tweak and re-program the keyboard between songs (a real pain!). Eventually, during the synth-heavy music of the 80's, I had 6 keyboards, amps and mixer I was toting around to gigs. This page of the site shows a wide variety of compositions created using synthesizers, samplers, a keyboard and a computer. With the exception of the music recorded with "Back To Back" (recorded in 1987 - which used a number of different analog and digital synths) all of the music here was performed on Kurzweil keyboards and synthesizers, sequenced on Apple computers."
Demonstration Sequencing
"I was hired to write demonstration sequences for Kurzweil Music Systems in 1988. The challenge was to create self-starting sequences that could be played at dealers and clinics using these Kurzweil keyboards. After the initial batch of song demos were delivered the Product Manager heard the tunes and said "S*** I didn't know it could do that!". I was immediately contracted as Artist In Residence for Kurzweil and wrote demos for the entire product line. A year later this led to my being hired as Director of Artist Relations and Tech Support for Kurzweil in Boston. I continued writing demos and doing clinics around the country for Kurzweil until I left the company in 1996 to start my own business."